With closets and wardrobes getting smaller in the new buildings, budgets getting tighter and more consumers being more in tune with having a minimalistic closet we all have to make tough choices when it comes to adding pieces to our wardrobes. Here are some things to keep in mind when looking for women's handbags worth paying for.
Here are my TOP 5 handbag picks!
⁃ The work horse: Everyone needs a roomy & organized work bag. Specially with the pandemic some people are doing split time at work and home and they need a bag that can carry it all. Look for bags with a depth to carry your laptop and folders. Make sure there are compartments in order to keep you and your items organized and minimize those crazy half body dips in the never ending depths of your bag to find whatever it is you need to find. I'm loving this Simone Satchel from Dagne Dover. Perfect pocket size for my 13″ laptop, enough room for a wallet, notepad and such. Neutral colours are the best as it helps with seasonal colour & outfit changes.
⁃ Travel bag: Big enough but small enough. Sturdy but flexible to be squeezed into overhead bins and small spaces in trunk of the car. Tote handles & shoulder straps are a must and it has to be able to wipe it down or wash it after a trip. God knows where they've been! When we are able to get past this pandemic and start traveling more often again, we have to have a bag that can handle all the abuse. This Tumi bag is great as it has a shoe compartment at the bottom to keep "dirty" stuff away from your change of clothes and other must haves on the go. Love love love it!!
⁃ Everyday bag: for shopping trips to brunches with the girls. Something that fits everything but it's small and light enough not to be in the way. Love a crossbody bag for everyday as when I go shopping I like to have both my hands free to browse. Stick with a neutral color for your everyday bag as it can be used in any season and different outfits; from puffy jackets to slinky dresses, crossbody bags are every girls best friend! This Mulberry Bayswater crossbody bag in black checks off all the boxes. Yes, I know black is a bit boring but it's super flexible when it comes to bags.
⁃ Clutch: I do enjoy a metallic colored clutch as it will go with most outfits. As for the size of a clutch, all it needs to fit is an ID card, money, lipstick, phone, car/house keys and possibly feminine products. Do not go bigger or smaller. You don't want to have to ask your date to carry your extra things in his pocket or have to store his wallet in your "big bag". Trust me on this! If metallics are not your cup of tea, stick with black. I really like the square shape and tone of this Aqua Kalliope beaded clutch. Fits my phone and it has enough metallic tones and colours to work with everything.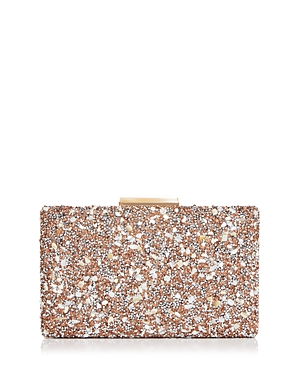 ⁃ Summer: Pick a fun bright color for Summer time. Peach, red, green & blue. Dealers choice! Probably in a style that's good for everyday this way it breaks up your bag choices between the seasons and stops you from being bored or over using and destroying one bag over the others. I'm loving this deep blue bag by Mulberry. Iris has nice lines and the shade of blue is bright for Summer but tame enough to get away with in Autumn.
Let me know what you guys look for when shopping for handbags and what are your favourite styles. Would love to know!